G32P/G38P Series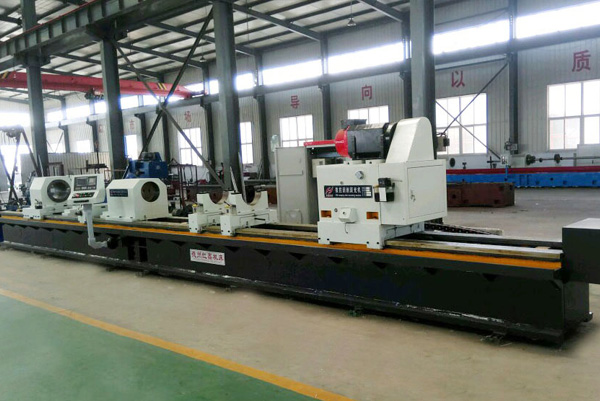 : G32P-50/CNC(II)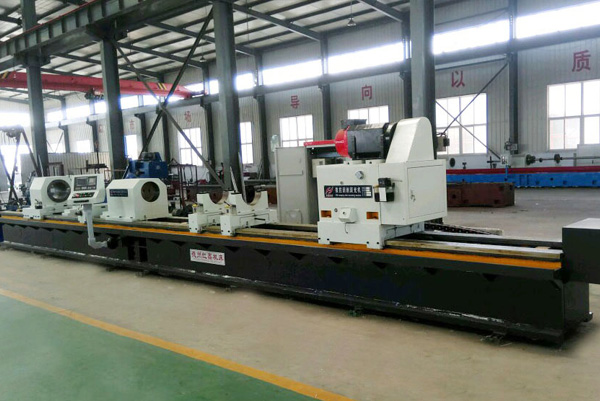 : G32P-100/CNC
Features :
Heavily ribbed box-type base is made of Meehanite castings, providing excellent rigidity to ensure machine stability.
Hydraulic, coolant and lubrication systems are separated from machine to eliminate vibration and dissipate heat.
Sturdy rigid-designed workhead is electronically controlled giving variable spindle speeds ranging from 30-350RPM. Workhead swivels 90°CCW to 90°CW for various grinding operations. A dual oil seal and cover prevents coolant seepage into the workhead.
The design of the tailstock is both rigid and robust. Housed in a cast body, the hardened nitralloy steel sleeve is designed to carry a MT4 center.
Optional hydraulic tailstock with foot pedal is available for easy loading and unloading of parts.
Cartridge type wheel spindle is equipped with four super precision class 7 (ABEC) bearings incorporated with 7 1/2 HP spindle motor ensure high accuracy.
One V and one flat hand-scraped guideways are Turcite coated and incorporated with an automatic lubrication system and micro-stepping motor. Smooth movement of the Wheelhead delivers longer way life with superior positioning accuracy and repeatability.
A special upper slide design adds 7" (180mm) in total wheelhead travel and increases grinding capacity.
Rigid table with box-type structure travels on a cushion of oil with no metal-to-metal contact. Table is fully supported in the full travel to avoid overhang. A swiveling table dial indicator enables rapid cylindricity corrections and taper grinding applications.
Slideways, leadscrews are continuously lubricated by an auto-lube system to ensure long service life and maintain maximum accuracy.
The hinged, swing-down internal grinding attachment (optional) swings down into working position easily and quickly. A patented locking device adds safety as it prevents the ID attachment from swinging down abruptly.
PLC control uses a menu-driven LCD touch screen is easy to learn and easy to set. Simply fill in the blanks to set total grinding amount, rough increment, fine increment, spark-out passes, feeding direction, parking position, and retracting clearance, and presscycle start to complete automatic grinding cycle. (NC Models only)
Optional Accessories :
I.D Spindle
Balancing Stand
Manual Leaver 5C Closer
5C Collets
Parallel Dressing Attachment (Manual)
Hydraulic Parallel Dressing Attachment
3-Jaw Scroll Chuck
4-Jaw Chuck
4-Jaw Scroll Chuck
Fixed Back Plate
Adjustable Back Plate
2-Point Steady Rest
3-Point Steady Rest
Digital Readout
Radius Dressing Device
Angle Dressing Device
Spare Grinding Wheel
Spare Wheel Flange
Coolant System W/Magnetic Separator & Paper Filter
Coolant System W/Paper Filter
Application :
G32P-60H-NC's Application
Specifications :
Description / Model
G32P / G38P / G45P - 60 / 100 / 150 / 200H / NC
General capacity
Swing Over Table
Ø320/Ø380/Ø450 (Ø12.6"/Ø15"/Ø18")
Distance between Centers
600(24")
1000(40")
1500(60")
2000(80")
Max. Grinding Diameter
Ø300/Ø360/Ø430 (Ø12"/Ø14"/Ø17")
Max. Load Held between Centers
150kgs (330lbs)
Grinding Wheel
Wheel Diameter (dia. x Width x Bore)
Ø405 x 50 x Ø127 (Ø16" x 2" x Ø5")
Wheel Speed
1650
Wheelhead
Swivelling Angle (R & L)
±30°
Infeed Travel
245(9.6")
Handfeed Travel
200(7.9")
Top Slide Travel
180(7")
Automatic Rapid Travel
45(1-3/4")
Auto Increment Infeed (NC model)
Ø0.001~Ø0.999 (Ø0.001"~Ø0.0999")
Handwheel per Graduation
Ø0.004(Ø0.0002")
Handwheel per Revolution
Ø2(0.1")
Workhead
Swivelling Angle (R & L)
90°
Center Taper
MT4 (opt. MT5, 5C)
Spindle Speed
30~350 rpm (VARIABLE SPEEDS)
Tailstock
Center Taper
MT4 (opt. MT5)
Quill Travel
25(1")
Table
Swivelling Angle (R & L)
±9°
±7°
±5°
±3°
Traverse Speed
30~7000mm/min (1-1/5~275 in/min)
Handwheel per Revolution
10(4")
Internal Grinding
Spindle Speed
18000rpm or 25000rpm
Max. Grinding Bore
Ø30~100(Ø1.18"~3.94")
or Ø20~50(Ø0.79"~1.97")
Max. Grindind Length
110(4.3") or 55(2.2")
Max. Chucking Length
315(12.4")
Max. Chucking Diameter
Ø150(Ø6")
Motor
Wheel Spindle Motor
7.5HP(4P)
Workhead Motor
2HP(4P)
Hydraulic Pump
1/4HP(2P)
Coolant Pump
2HP(4P)
Internal Grinding Motor
2HP(4P)
Machine
Net Weight (approx)
3500kgs
(7700lbs)
3600kgs
(7920lbs)
4700kgs
(10340lbs)
6000kgs
(13200lbs)
Gross Weight (approx)
4000kgs
(8800lbs)
4700kgs
(10340lbs)
5600kgs
(12320lbs)
6780kgs
(14916lbs)
Packing Dimension
(L x W x H)
3030 x 2250 x 2030
(119" x 89" x 80")
3030 x 2250 x 2030
(119"x89"x80")
4030 x 2250 x 2003
(159" x 89" x 80")
5220 x 2250 x 2030
(206" x 89" x 80")
Remark: We reserve the right to modify the specification relating to any of the above machines wirhout notice.