G20P/G25P CNC Series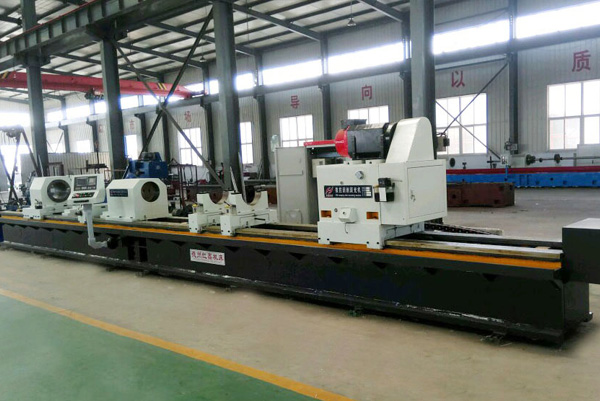 : G25P-50/CNC(I)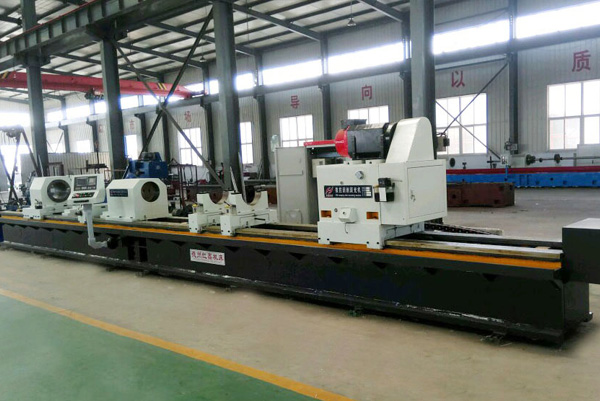 : G25P-50/CNC(II)
The Supertec series of CNC cylindrical grinding machines have been designed for ease of operation while continuing to be some of the most machines in their class. These grinding machines offer solutions that satisfy the user's need for a wide variety of applications including toolroom or production environments. Models are available in many capacities between centers, center heights, and a choice of straight wheelhead or angular slide wheelhead. These cylindrical grinders utilize either the Fanuc control or other controllers that support a slide selection of highly-automated options.
Features :
Machine Base
The heavily ribbed box-type base is made of Meehanite casting, providing excellent rigidity to ensure machine stability. Optimum distance between the guideways offers excellent table support to increase Z axis positioning accuracy and repeatability.
Work Head
The sturdy rigid-designed workhead equipped with precision bearings is electronically controlled giving variable spindle speeds. Workhead swivels 90°counterclockwise to 30°clockwise for various grinding operations. A combination live and dead-type spindle allows for quick changeover from center to chuck operation or vice versa. A dual oil seal and cover prevent coolant seepage into the workhead.
Tailstock
The design of the tailstock is both rigid and robust. Housed in a Meehanite case body, the hardened nitralloy steel sleeve is designed to carry a MT3 center for G20P/G25P. Movement of the sleeve is adjusted by a knob to give a light or heavy load. An optional hydraulic tailstock with foot pedal is available for easy loading and unloading of parts.
Wheel Spindle
Cartridge type wheel spindle is equipped with four super precision angular contact class 7 (ABEC) bearings ensure high accuracy.
Saddle
Both the double V and flat guideways are hand scraped and Turcite coated, and utilize an automatic lubrication system, precision ballscrew, AC servo motor and a 0.001mm (0.000020") linear feedback system. This combination allows for a smooth movement of the wheelhead which delivers a longer way life with superior positioning accuracy and repeatability. The enlarged and properly sloped drainage troughs under the wheelhead base help to control thermal growth and provides the rapid coolant drainage needed during heavy grinding cycles.
Work Table
The rigid table with box-type construction travels on a cushion of oil with no metal to metal contact. An automatic lubrication system operates continuously to ensure smooth movement and consistent accuracy. Z-axis positioning accuracy and repeatability is assured with an AC servo motor and high precision, pre-tensioned ballscrews. A swiveling table dial indicator enables rapid cylindrical corrections and taper grinding applications. The table is fully supported over the full travel to avoid any overhang.
Automatic Lubrication System
Slideways, ballscrews and spindle are continuously lubricated by an auto-lube system to ensure long service life and maintain maximum accuracy. Hydraulics coolant and lubrication systems are separated from machine to eliminate vibration and dissipate heat.
System for Automation
A highly-automated grinding system can be customized with a wide selection of optional equipment including an automatic OD sizing device, gap control, crash control and touch probe for axial positioning.
Optional Internal Grinding Attachment
The hinged, swing-down internal grinding attachment swings down into working position easily and quickly. A patented locking device adds safety as it prevents the ID attachment from swinging down abruptly.
Optional Accessories :
Oil-Mist Separator
Crash Control
Gap Control
Touch Probe
Adjustable Back Plate
I.D Attachment(Variable)
Lube Oil Temperature Regulator
Grinding Wheel
5C Collets
3 Jaw Scroll Chuck
4 Jaw Chuck
4 Jaw Scroll Chuck
Fixed Back Plate
Auto Sizing Device
2-Point Steady Rest
3-Point Steady Rest
Z-Axis Digital Readout
Spare Grinding Wheel
Spare Wheel Flange
Shaft
Balance System
Application :
G20P-50CNC's Application
G25P-50CNC's Application
Specifications :
Description / Model
G20P / G25P-50CNC
General Capacity
Swing over Tabel (mm)
Ø200
Ø250
Distance between Centers (mm)
500
Max. Grinding Diameter (mm)
Ø200
Ø250
Max. Load Held between Cenetrs (kg)
80
Grinding Wheel
Diameter x Width x Bore (mm)
Ø355 x 38 x Ø127
Ø405 x 50 x Ø127
Wheel Speed (rpm)
1940
1650
Max.peripheral speed (M/min)
1800
Wheelhead
Sliding Angle Deg
90°
Max. increment Speed (M/min)
4
Infeed Travel (mm)
150
160
Min. Increment Infeed (mm)
Ø0.001
Workhead
Spindle Speed (Variable) (rpm)
50~500
Center Taper (MT)
MT 3
Spindle Type
Fixed & Rotary
Diameter of Bore (mm)
Ø20
Tailstock
Quill Travel (mm)
25
Center Taper (MT)
MT 3
Table
Rapid Feedrate (M/min)
8
Min. Increment Feed (mm)
0.001
Swivelling Angle C.C.W
7°
Motor
Wheel Spindle Motor (HP)
5 HP
5HP (Opt. 7.5HP)
Workhead Motor(HP)
1/2 HP
Lubrication Pump (HP)
1/4HP
Hydraulic Pump (HP)
1
Coolant Pump (HP)
1/8 HP
1/4HP
Wheel (X-axis) Motor KW (Fanuc)
1.2 KW
Wheel (Z-axis) Motor KW (Fanuc)
1.2 KW
Machine
Net Weight (semienclosed) (kg)
2500
3100
Cross Weight (kg)
2800
3500
Packing Dimension (L x W x H) (mm)
2700 x 2250 x 2220
2970 x 2250 x 2250
Remark: We reserve the right to modify the specification relating to any of the above machines wirhout notice.